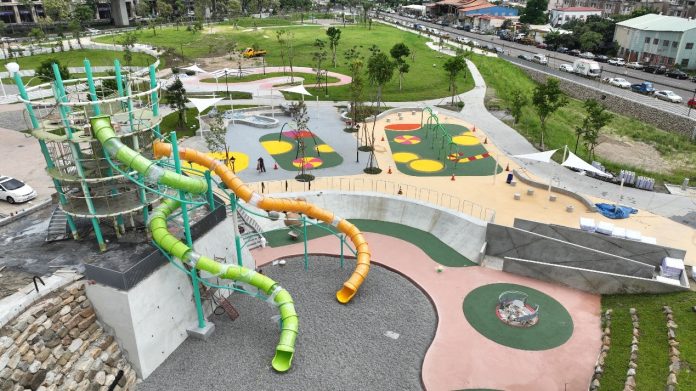 Wan Pei, Lin/ Taichung
Macaron Park will open in early September this year. It used to be a landfill site but now it is converted into a very unique park and all the facilities are as colorful as macarons. Moreover, the spirit of "all lives matter" has been put into practice when designing the park. There are pet-friendly areas and some well-designed playground equipment for children with special needs.
The transformation of the former landfill site would not be successful without Taichung City Mayor Lu Shiow-Yen and the Taichung City Government's support. The tower playground has the highest outdoor slides in Taiwan, which is 11 meters; the other two slides are 8 meters and 2.5 meters high. There are a variety of climbing facilities inside and outside the tower such as net climbers, sliding poles, curved climbers, and other challenging paths.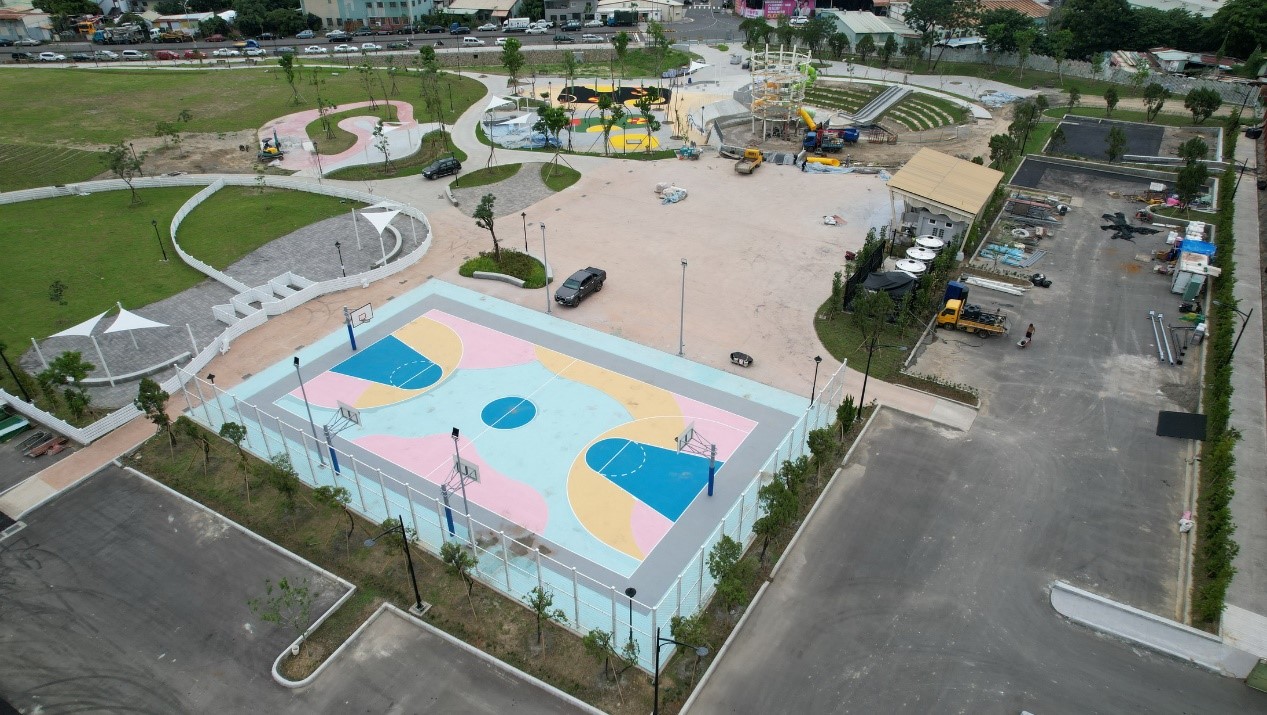 To let children of different ages enjoy themselves, the thematic playgrounds use the changes in terrain to set up gravel pits and climbing slopes, including a natural rock-climbing challenge area, a 4-meters height climbing field, and the slope is about 60 degrees. These facilities allow children over 12 years old and adults to challenge their physical abilities. Swings are most children's favorite. the eight sets of swings in the gentler area are expected to satisfy the "high demand." In addition, there are wheelchair-accessible roundabouts, swings, bodentrampolin, and sand tables for children with special needs, Director General of the Construction Bureau, Chen Da-Tian, said.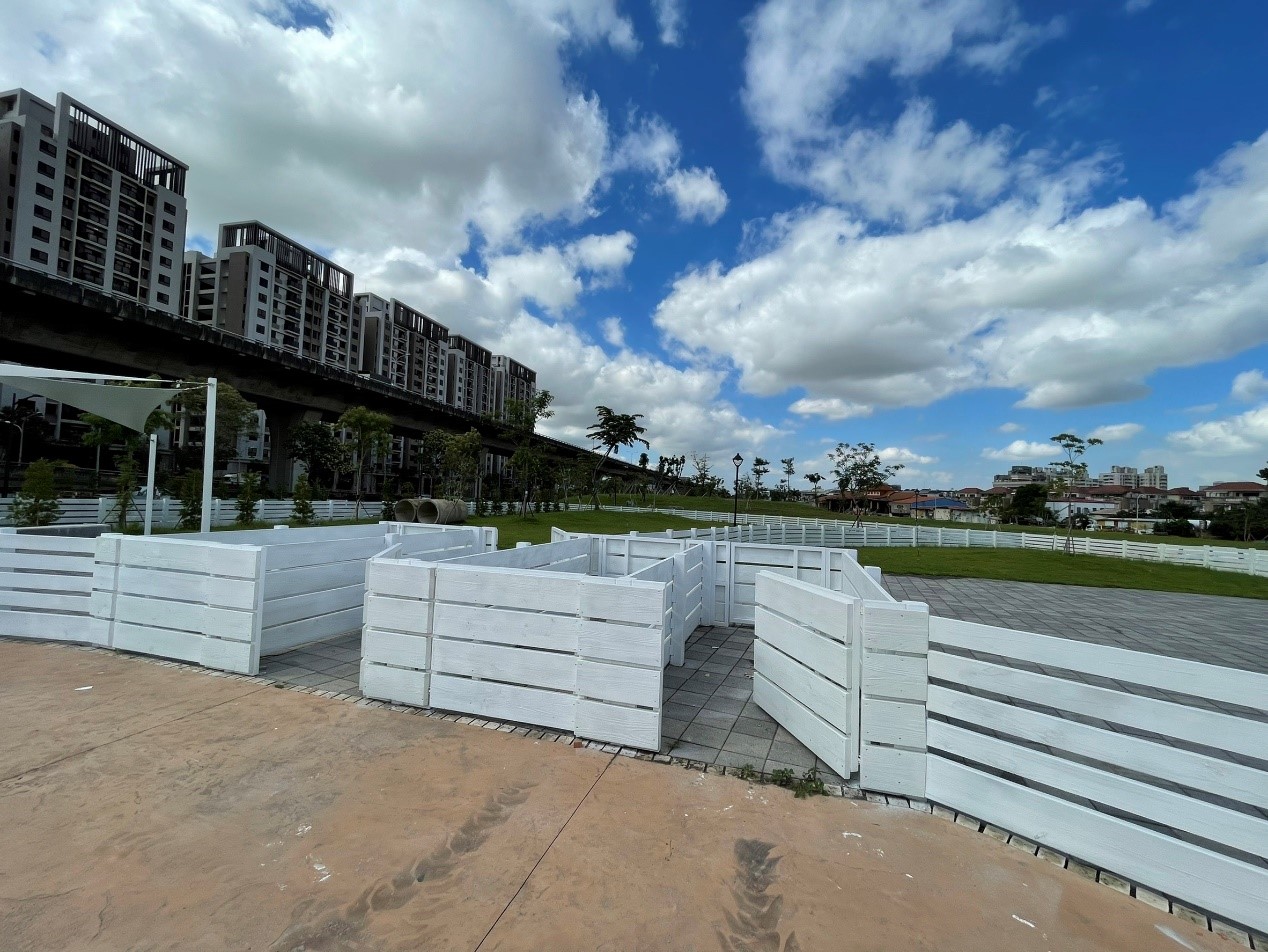 There is a brand-new pet activity area for dogs in Macaron Park. It is about 1,500 square meters for large dogs and small dogs. The area is equipped with double-level entrances and exits to effectively avoid dogs from running away. Moreover, culverts and mounds have been utilized to create an undulating terrain; the resting area also has sun shelters and seats for owners to rest. If the dogs are thirsty or dirty, there are also water fountains and washing areas with leash hooks for pets.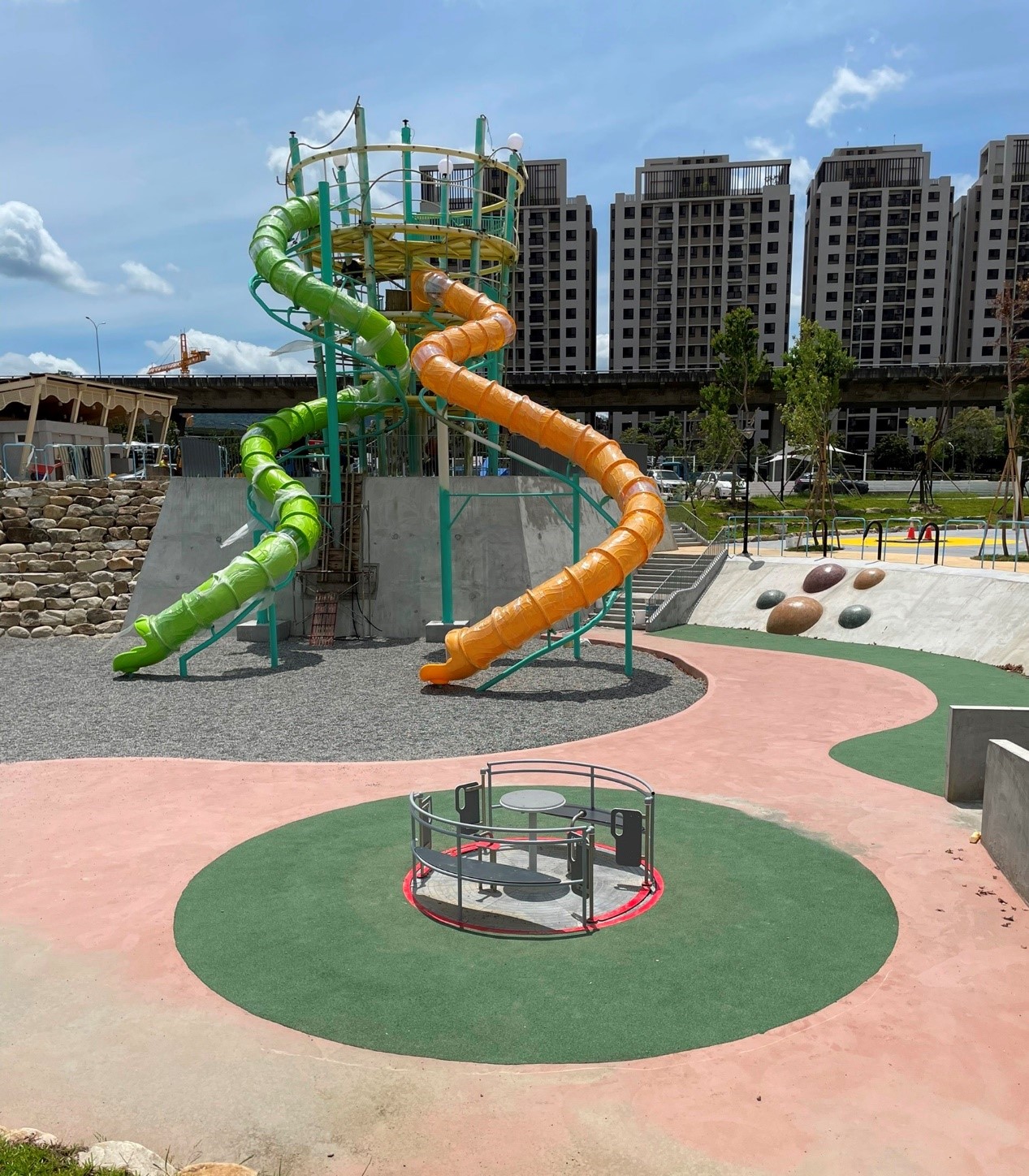 There is a multi-purpose plaza with a variety of sports venues in the park. For instance, basketball courts, badminton courts, and other sports areas. In addition, 126 car parking spaces (6 accessible parking spots) and 77 motorcycle parking spaces (2 accessible parking spots) are provided in the park to meet the demand of the crowd.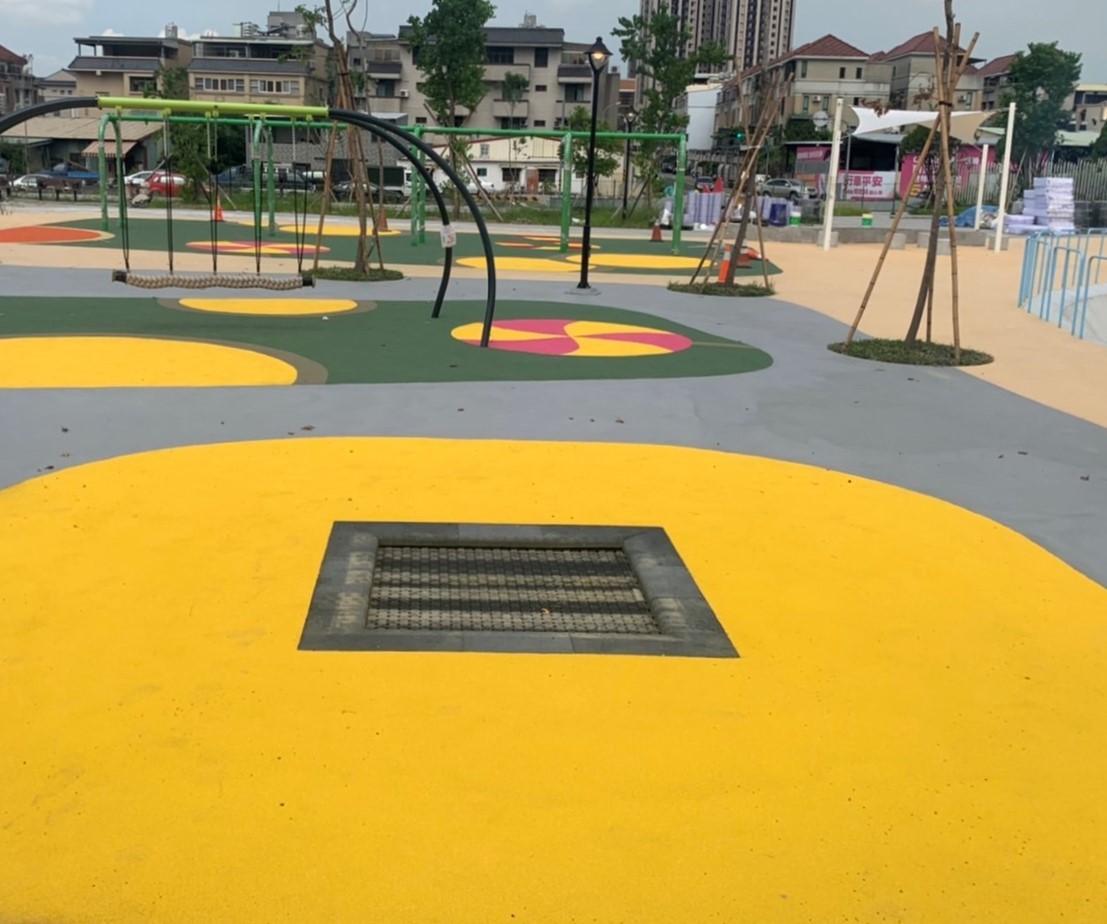 Macaron Park is not the only one open to the citizens currently, and so does Li-Xin Park in Nantun District. It also has many special playground facilities, such as the one and only giant watermelon-shaped net climbers constructed of intertwined climbing ropes, which can train a sense of balance and coordination. The uppermost level can overlook the entire playing area, which is one of the most popular facilities for children nowadays. The accessible facilities such as wheelchair-accessible swings, sand tables for children with special needs and the integration of water environment education and the park makes the Li-Xin Park a characteristic landmark in Taichung, the Construction Bureau of Taichung City Government said.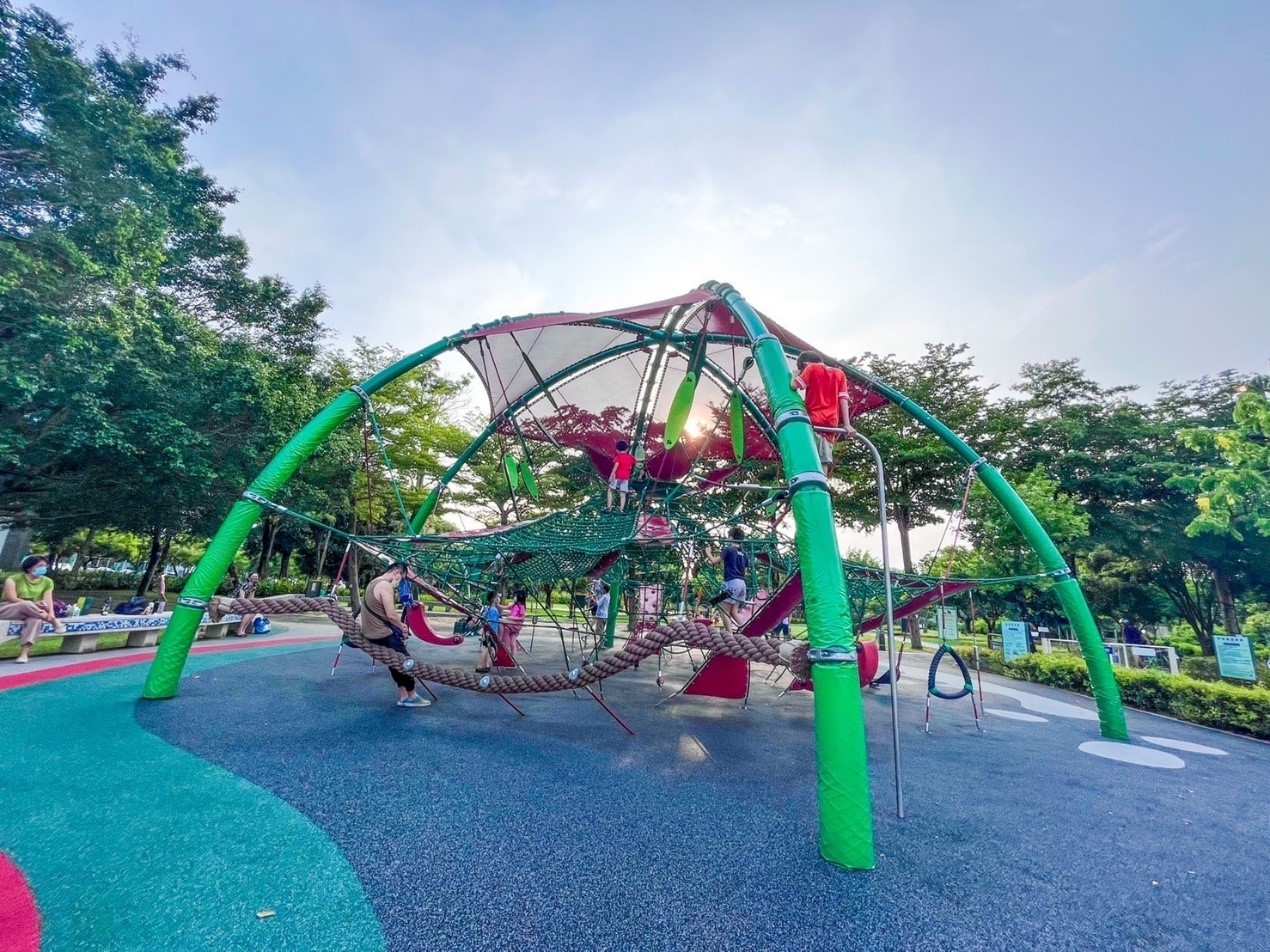 The construction bureau notes that the Macaron Park in Taiping district and the Li-Xin Park in Nantun district are the most distinctive playgrounds in Taichung. To ensure children's safety, the parks will have to carry out an operational playground inspection during the subsequent completion stage.(臺中市政府建設局廣告)